Vol. 98 | 11.15.2008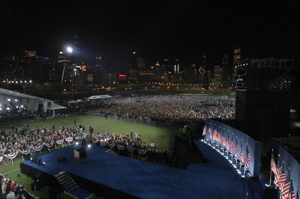 NEW FOR NOVEMBER 15, 2008
The smell of hope is in the air.
And a soundtrack of hope to back it . . .

Just One Victory - The Best Radio You Have Never Heard Vol. 98
1. Just One Victory (live) - Utopia
2. Thunderstruck (live) - AC/DC
3. Take It Easy (live) - Jackson Browne
4. The Night They Drove Ol' Dixie Down (live) - The Allman Brothers Band
5. Won't Get Fooled Again (live solo acoustic) - Pete Townshend
6. My Generation - Oasis
7. The Revolution Starts Now - Steve Earle
8. Back In The Saddle - Aerosmith
9. Chinese Democracy - Guns 'n Roses
10. Orion - Rodrigo y Gabriela
11. Soon We'll Be Found - Sia
12. November Spawned a Monster - Morrissey
13. Gimme Shelter (keith vocal) - The Rolling Stones
14. Eight Miles High - Roxy Music
15. Can You See Me (live) - The Jimi Hendrix Experience
16. Lonesome Cowboy Burt - Mothers Of Invention (feat. Jimmy Carl Black)

The Best Radio You Have Never Heard.
Where's my waitress . . .
Accept No Substitute.
*Podcast version not available at iTunes; link will take you to an alternate version of the track
Don't forget to leave some feedback!