Vol. 218 | 10.01.2013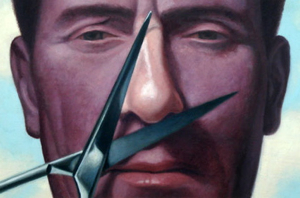 NEW FOR OCTOBER 1, 2013
A nod is as good as a wink to a nose-less man . . . . . .
Spited Face - The Best Radio You Have Never Heard Vol - 218
1. One Way Street (live) - Aerosmith Buy From iTunes*
2. The Changeling (live) - Patti Smith
3. Get It On (Bang a Gong) (live) - Blondie Buy From iTunes
4. Ghost Town (live)* / Refuse To Be Saved - Elvis Costello and The Roots Buy From iTunes
5. We Exist - Arcade Fire Buy From iTunes
6. Shock The Monkey - Joseph Arthur Buy From iTunes
7. The Ancient (live excerpt) - Steve Howe Trio Buy From iTunes*
8. This Is The Last Time (live unplugged) - The National Buy From iTunes*
9. Mexican Vacation (Kids In the Candlelight) (live) - Elton John Buy From iTunes
10. Lightning Bolt - Pearl Jam Buy From iTunes
11. Heart Shaped Box (live) / Forgotten Tune (demo) - Nirvana Buy From iTunes
12. English Civil War (live) - The Clash Buy From iTunes
13. Got To Get Out Of This Heat SOS - Topper Headon
14. Say That To Say This - Trombone Shorty Buy From iTunes
15. Baby Blue - Badfinger Buy From iTunes
The Best Radio You Have Never Heard.
Rather be right, than play bad music . . .
Accept No Substitute.
Click to leave comments on the Facebook page.

*Podcast version not available at iTunes; link will take you to an alternate version of the track
Don't forget to leave some feedback!