Vol. 403 | 01.15.2021

NEW FOR JANUARY 15, 2021
The Music Will Save Us - Rick's Picks 2020
And so it is says, by those who sayeth such things, the middle of January is the time we turn the show over to Rick From New York, who has a go thru of all the tracks played the previous year on The Best Radio You Have Never Heard and gives us a highlight reel of the BRYHNH year in review. This year being the notorious 2020, as important a show as Rick has been tasked with, Rick pulls no punches and has had his ear to the grind stone these past twelve months, and finds the light, where it had been mostly darkness.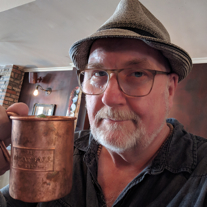 As per usual Rick has risen to the task and delivered a white hot list, as welcoming as that first Covid vaccination shot.
We now join RIck in progress:
Because... 2020. Enough said. We get it. Something went wrong. Something got fucked up. Life is a drag. Everybody's making quarantine playlists on Spotify or lip syncing to "M to the B" on Tik Tok. Even your dad is making covid-19 mixtapes. Well, let's turn this battleship around and head into the waters of 2021 in a positive manner. This year, Rick's Picks is mining positive music from 2020's BRYHNH to bring you music that will save you. Enjoy and stay positive! -Rick from NY

1. In A Big Country (live) - Big Country
2. They Call It Rock (live) - Rockpile
3. Girls Talk (live unplugged) - Aimee Mann
4. In Between Days (live unplugged) - The Cure
5. Bigmouth Strikes Again (live) - Johnny Marr
6. Open You Eyes (live) - Todd Rundgren
7. This Is The Day - The The
8. Nineteen Hundred and Eighty Five (alt) Wings
9. Papa Was A Rolling Stone (live) - David Lindley
10. Dance This Mess Around (live) - The B52s
11. Burning With Optimisms Flame (live) - XTC
12. Good Feeling - Jules and The Polar Bears
13. So Alive - Love and Rockets
14. Left Of The Dial - The Replacements
15. The New World (live) - X
16. Route 66 (alt) - Depeche Mode
17. Dixie Chicken (live unplugged) - Little Feat
18. Trouble No More (live) - Muddy Waters
The Best Radio You Have Never Heard
Never lost sight of the light.
Accept No Substitute
Click to join the conversation on the Facebook page.
*Podcast version not available at iTunes; link will take you to an alternate version of the track
Don't forget to leave some feedback!