Vol. 136 | 06.15.2010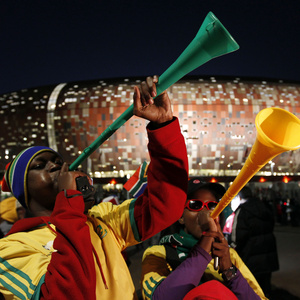 NEW FOR JUNE 15, 2010
To replace the sound of the vuvuzela, when you turn the sound on your TV down during the games.
BRYHNH Vol. 136 to the rescue.

One Goal - The Best Radio You Have Never Heard Vol. 136

1. World In Motion - New Order Buy From iTunes
2. Diamonds On The Sole of Her Shoes - Paul Simon
3. These Days - Johnny Clegg Buy On iTunes
4. (Free) Nelson Mandela - The Specials Buy From iTunes
5. Biko (live) - Peter Gabriel Buy From iTunes*
6. Joyland - Andy McKee Buy From iTunes
7. Over The Rainbow - Jeff Beck Buy From iTunes
8. Land Of The Midnight Sun - Al Di Meola Buy From iTunes
9. The Things You See - Allan Holdsworth Buy From iTunes
10. Deutscher Girls - Adam and the Ants
11. Maybe I'm Amazed (live) - Faces Buy From iTunes*
12. Love, Reign O'er Me - Bettye LaVette Buy From iTunes
13. Teenage Wasteland - Pete Townshend
14. Tank (live) - Emerson, Lake and Palmer Buy From iTunes*

The Best Radio You Have Never Heard.
Tooting the horn of great music since 2004 . . .
Accept No Substitute
*Podcast version not available at iTunes; link will take you to an alternate version of the track
Don't forget to leave some feedback!