Vol. 192 | 09.15.2012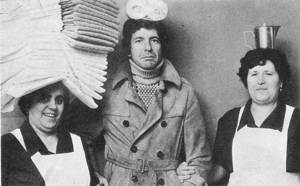 NEW FOR SEPTEMBER 15, 2012
The hat is always the giveaway . . .

Sinister Headwear - The Best Radio You Have Never Heard Vol. 192
1. Boléro - Frank Zappa Buy From iTunes
2. Are You Going With Me ? (live) - Pat Metheny Group Buy From iTunes*
3. Rave Up - Emerson, Lake and Palmer
4. Thunder Road (live) - Bruce Springsteen and the E Street Band Buy From iTunes*
5. Heroes (live) - David Bowie w/ Adrian Belew Buy From iTunes*
6. More Than This - Roxy Music Buy From iTunes
7. No One Receiving - Brian Eno Buy From iTunes
8. Crosseyed and Painless (demo) - Talking Heads Buy From iTunes
9. Tanks and Guns - Almighty Whispers
10. No Quarter (live) - Led Zeppelin Buy From iTunes*
11. Half Light I - Arcade Fire Buy From iTunes
12. Perpetual Change (live) - Yes Buy From iTunes*
The Best Radio You Have Never Heard.
Technical with or without the beret . . .
Accept No Substitute
*Podcast version not available at iTunes; link will take you to an alternate version of the track
Don't forget to leave some feedback!