Vol. 200 (pt 2) | 01.01.2013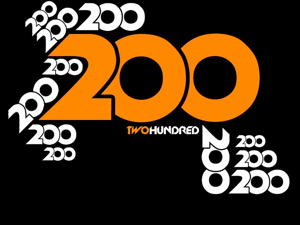 NEW FOR JANUARY 1, 2013

BRYHNH has reached a joyous milestone with its 200th episode. And to celebrate, we thought it proper to invite in BRYHNH friends, contributors and supporters beyond the red velvet rope and have some fun with this landmark anniversary. Each friend has commandeered a section of the show with some of their favorite music, plus fun commentary, and we've separated it into two parts, with part one preceeding.
*Note: Both Pt.1 and Part 2 exceed the usual length and will not fit on a standard CD for those who expand to wav/aif and burn as an audio disc . . .
Comment and thoughts for BRYHNH are now exclusively at our Facebook page and all of guest DJs will be checking in to chat about episode 200 and their guest spots.

Whitewashing BRYHNH (200th Episode Celebration) - Pt. 2 - The Best Radio You Have Never Heard - Vol. 200
John Vernon (Publisher, Illinois Entertainer Magazine ) - Chicago

1. Tell Me Where You're At - Uptown Rulers
2. Tears Of A Clown (live) - English Beat Buy From iTunes*
3. Gangster (live) _ The Specials Buy From iTunes*
4. There You Go - Rude Guest
5. Sound Of The City (Uncle Blade Mix live) - Odd Man Out

Rick Bennett (BRYHNH Contributor) - New York
6. Chicago - Tom Waits Buy From iTunes
7. Tower of Song (live) - Leonard Cohen Buy From iTunes
8. Ireland - Dredg Buy From iTunes
Bill Donnelly (BRYHNH Contributor) - Connecticut
9. Mother Russia - Renaissance Buy From iTunes
10. Matte Kudasai (alt) - King Crimson
11. And You And I (early) - Yes Buy From iTunes
12. Dancing For Dollars - The Iguanas Buy From iTunes
Keith Droz (BRYHNH Contributor) - New Jersey
13. Bohemian Rhapsody (droz remix) - Queen Buy From iTunes*
14. Senses Working Overtime (live) - XTC Buy From iTunes*
15. Montana (live) - Frank Zappa Buy From iTunes)*
16. On Reflection (live) - Gentle Giant Buy From iTunes*
Rob C (BRYHNH Spiritual Advisor / Knife Sharpener) - The Land Beyond O'Hare
17. Mexican Guy - The Stooges Buy From iTunes
18. Angry Cockroaches (Cucarachas Enojadas) - Tito & Tarantula Buy From iTunes
19. The Knife (live / test pressing) - Genesis Buy From iTunes
20. Mexico - Morrissey Buy From iTunes

22. Friends / Celebration Day - Led Zeppelin Buy From iTunes

The Best Radio You Have Never Heard.
What a long, strange trip it's been . . .
Accept No Substitute
*Podcast version not available at iTunes; link will take you to an alternate version of the track
Don't forget to leave some feedback!