Vol. 200 (pt 1) | 01.01.2013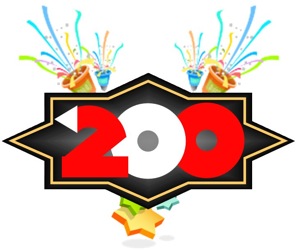 NEW FOR JANUARY 1, 2013

BRYHNH has reached a joyous milestone with its 200th episode. And to celebrate, we thought it proper to invite in BRYHNH friends, contributors and supporters beyond the red velvet rope and have some fun with this landmark anniversary. Each friend has commandeered a section of the show with some of their favorite music, plus fun commentary, and we've separated it into two parts, with part two following directly.
Click HERE for Part 2 or scroll down and expand the next entry.
*Note: Both Pt.1 and Part 2 exceed the usual length and will not fit on a standard CD for those who expand to wav/aif and burn as an audio disc . . .
Comment and thoughts for BRYHNH are now exclusively at our Facebook page and all of guest DJs will be checking in to chat about episode 200 and their guest spots.

Whitewashing BRYHNH (200th Episode Celebration) - Pt. 1 - The Best Radio You Have Never Heard - Vol. 200

1. Tom Sawyer - Rush
Barry Ratcliffe aka The Seeker (Who Cloudcast) - England
2. Time - Kroke Buy From iTunes
3. Rainy Night In Soho - The Pogues Buy From iTunes
4. When I was A Boy - The Who
5. AKA . . . What A Life - Noel Gallagher's High Flying Birds Buy From iTunes
Billy Batts (BRYHNH Contributor) - Chicago
6. Dreams - The Allman Brothers Band Buy From iTunes
7. Dark Matter - Porcupine Tree Buy From iTunes
8. Laila (pt. 2) - Agitation Free Buy From iTunes

Dave Walker (BRYHNH Contributor) Scotland
9. Cocksucker Blues - The Rolling Stones
10. Didn't Leave Nobody But The Baby (live) - Gillian Welch / Emmylou Harris Buy From iTunes*
11. Cymbaline - RPWL Buy From iTunes*
Teri Gidwitz (BRYHNH Executive Producer) - Chicago
12. Get It Straight - Trampled Underfoot Buy From iTunes
13. Miracle Worker - SuperHeavy Buy From iTunes
14. Boston - Augustana Buy From iTunes
15. Orion - Rodrigo y Gabriella Buy From iTunes
16. Harder Than The Fall - Ruthie Foster Buy From iTunes

Paulie, Vinnie and Cuco (BRYHNH interns / staff / slackers)
17. Seamus - Pink Floyd Buy From iTunes

The Best Radio You Have Never Heard.
What a long, strange trip it's been . . .
Accept No Substitute
*Podcast version not available at iTunes; link will take you to an alternate version of the track
Don't forget to leave some feedback!