Vol. 235 | 06.01.2014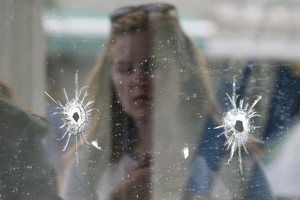 NEW FOR JUNE 1, 2014
Code 5150 - The Best Radio You Have Never Heard - Vol. 235
1. Danger to self: The person must be an immediate threat to him/herself due to mental disorder. Being a threat to oneself is not limited to being suicidal; this criterion can be met in other ways. For example, the intention to respond to the delusion that there is a computer chip embedded under one's skin by digging it out with a knife meets the criterion.
2. Danger to others: The person must be an immediate threat to someone else's safety due to mental disorder.
1. Psycho Killer (early) - Talking Heads Buy From iTunes*
2. Girls On My Mind - David Byrne Buy From iTunes
3. Ask (early) - The Smiths Buy From iTunes*
4. Mr. Hate - The Tubes Buy From iTunes
5. Creep (live) - Rodrigo y Gabriella
6. Almost Cut My Hair (live) - Crosby, Stills, Nash and Young Buy From iTunes*
7. Hoedown (live) - Carl Palmer Band Buy From iTunes*
8. Loosen up - The Nazz Buy From iTunes
9. Tighten Up (live studio) - R.E.M. Buy From iTunes
10. Unrepentant Geraldines - Tori Amos Buy From iTunes
11. Heroin - Joseph Arthur Buy From iTunes
12. O (reprise) - Coldplay
13. Taurus - Spirit Buy From iTunes
14. Stairway To Heaven (early) - Led Zeppelin (Page and Jones)
15. Whole Lotta Love (early / 2014) - Led Zeppelin Buy From iTunes
16. Communication Breakdown (live) - Led Zeppelin w/ Ron Wood Buy From iTunes*
17. These Days / Melissa (live) - Jackson Browne and Gregg Allman Buy From iTunes
The Best Radio You Have Never Heard
A danger to bad music for a decade . . .
Accept No Substitute
Click to join the conversation on the Facebook page.
*Podcast version not available at iTunes; link will take you to an alternate version of the track
Don't forget to leave some feedback!