Vol. 256 | 04.15.2015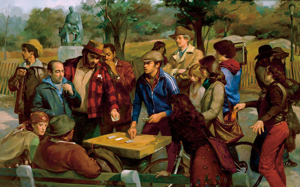 NEW FOR APRIL 15, 2015
You Been Had - The Best Radio You Have Never Heard - Vol. 256
15 tracks on April 15. $15 on the Perfecta, please . . .
1. The Queen Is Dead (live) - Morrissey Buy From iTunes*
2. Tenement Funster / Flick Of The Wrist (live) / Lily Of The Valley - Queen Buy From iTunes
3. Everything's A Ceiling (live) - Death Cab For Cutie Buy From iTunes*
4. Distance Wheel - Razorhouse Buy From iTunes
5. I'm One (live) - The Who w/ Eddie Vedder Buy From iTunes*
6. Cheap Reward (Honky Tonk Version) - Elvis Costello
7. Dead Flowers (live) - The Rolling Stones Buy From iTunes*
8. Just Like A Woman (live) - Govt. Mule w/ Gregg Allman and Friends Buy From iTunes
9. Walk Don't Run - Steve Howe Buy From iTunes
10. To Be Over (live unplugged) - Yes Buy From iTunes
11. This Island Earth - Todd Rundgren Buy From iTunes
12. The Way You Are (early) - Tears For Fears Buy From iTunes
13. The Sheltering Sky (alt) - King Crimson
14. Old Man Of The Sea - Steve Rothery w/ Steve Hackett and Steven WIlsonBuy From iTunes
15. Midnight Sun - Steve Hackett
The Best Radio You Have Never Heard
Never picked a show without a breeders guide . . .
Accept No Substitute
Click to join the conversation on the Facebook page.
*Podcast version not available at iTunes; link will take you to an alternate version of the track
Don't forget to leave some feedback!