Vol. 282 | 04.01.2016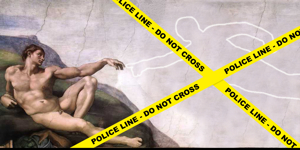 NEW FOR APRIL 1, 2016
Jagged Little Hate Machine - The Best Radio You Have Never Heard - Vol. 282
How does the mirror affect you . . . ?
1. I Am The Walrus - Colin's Hermits (XTC's Dave Gregory)
2. Shame (early) / Nothing - Stabbing Westward Buy From iTunes
3. Kooler Than Jesus - My Life With The Thrill Kill Kult Buy From iTunes
4. Mood For Another Day - Yes (Steve Howe)
5. To Be Over (early) - Yes Buy From iTunes*
6. Tarkus (live) - The Keith Emerson Band (feat. Marc Bonilla) Buy From iTunes
7. Smash The Mirror / We're Not Gonna Take it (live) - The Who Buy From iTunes
8. The Boy With A Thorn In His Side - Jeff Buckley Buy From iTunes
The Best Radio You Have Never Heard
One nasty little pill . . .
Accept No Substitute
Click to join the conversation on the Facebook page.
*Podcast version not available at iTunes; link will take you to an alternate version of the track
Don't forget to leave some feedback!